INTRODUCTION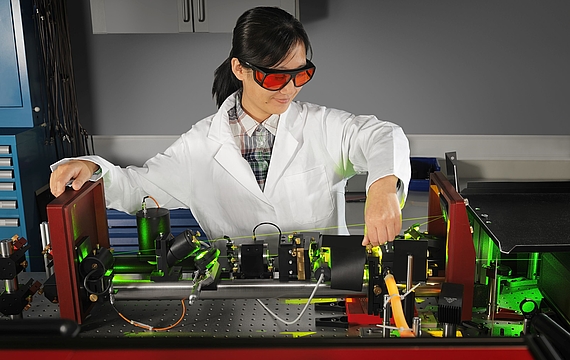 Spectroscopy of laser cooled atoms and ions has enabled the investigation of isolated matter with astonishing precision, culminating in the realization of optical frequency standards that demonstrated metrology at the 18th digit for the first time. However, the crucial techniques for these measurements, namely laser cooling and fluorescence detection, require suitable electronic transitions that are not available in many atomic and nearly all molecular species.
The exquisite quantum control over the internal state and the motion of trapped ions has established them as a promising platform for quantum computing and quantum simulation (see project A01). Using the same control capabilities, quantum logic spectroscopy (QLS) has been invented. Here, a co-trapped logic or cooling ion provides sympathetic cooling, internal state preparation and detection to spectroscopy ions that lack a suitable cycling transition for cooling and readout This technique has been demonstrated for the Al+ optical clock and is also used in projects B03 and B06 of DQ-mat.
The focus of this project is to extend the classical QLS protocol to even more complex species such as molecular ions. The challenges in such systems are the presence of multiple metastable ground states with super-GHz energy spacing and the absence of narrow transitions for the traditional implementation of QLS. We will address this challenge by developing a quantum logic toolbox for the investigation of molecular ions. This toolbox will involve efficient techniques for state preparation and detection. The first step has already been achieved by realizing the first demonstration of non-destructive rotational state detection for a molecular ion.
The long-term goal is to push the limit of achievable accuracies from 10-9 towards the performance of today's optical frequency standards. Accuracies on this level would allow to explore new physics by setting bounds, orders of magnitude more stringent for theories beyond the standard model, which involve variation of fundamental constants or an electron electric dipole moment larger than predicted by the standard model.
RESULTS
The previously demonstrated molecular state detection relies on the detection of state-dependent forces on the co-trapped atomic logic ion. Sensitivity of Force detection with a trapped ion probe can be enhanced by preparing the ion in a non-classical quantum state of motion. We have demonstrated a measurement scheme, based on motional Fock states, that allows force measurements with a sensitivity that exceeds the limits set by quantum mechanics for classical states, the so-called Standard Quantum Limit (SQL). Furthermore, it was shown that a variant of this scheme can also be employed for sub-SQL measurements of the oscillation frequency of the trapped ion. These types of measurements built on novel spectroscopy and experimental control techniques

For the investigation of a larger variety of molecular ions and in particular oxygen molecules, we have set up a molecular beam that will first be used for the investigation of state selective photo-ionization of oxygen.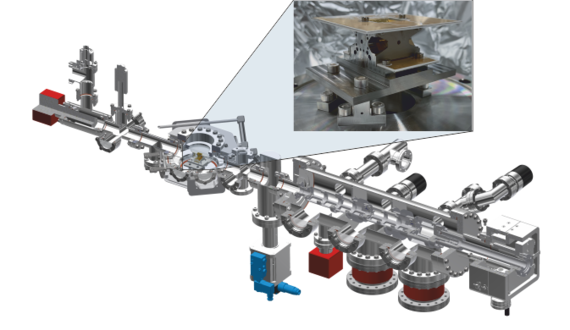 FUTURE
We plan to use the current setup for the development of quantum logic techniques for state preparation of molecular ions that will be implemented using MgH+-ions. For that purpose, we will set up a high power, far detuned Raman laser to couple the molecule's internal state to the shared motional degree of freedom. Simultaneous cooling of the motion via the logic ion provides a dissipation channel to eventually cool the molecules internal states.
In parallel we are working on a new experimental setup, where we plan to implement high precision quantum logic spectroscopy of molecular oxygen ions on a vibrational transition to infer a limit on a possible temporal variation of the proton-to-electron mass ratio.
PUBLICATIONS
(2018):

Detection of motional ground state population using delayed pulses

,

New J. Phys. 20, 029501

DOI:

10.1088/1367-2630/aaaafd

(2018):

Photon-recoil spectroscopy: Systematic shifts and nonclassical enhancements

,

Phys. Rev. A 98, 063808

DOI:

10.1103/PhysRevA.98.063808
PROJECT LEADER
Prof. Dr. Piet Oliver Schmidt
Address
Welfengarten 1
30167 Hannover
Dipl. Phys. Jan Christoph Heip
Dipl. Phys. Jan Christoph Heip
M. Sc. Maximilian Zawierucha
M. Sc. Maximilian Zawierucha