INTRODUCTION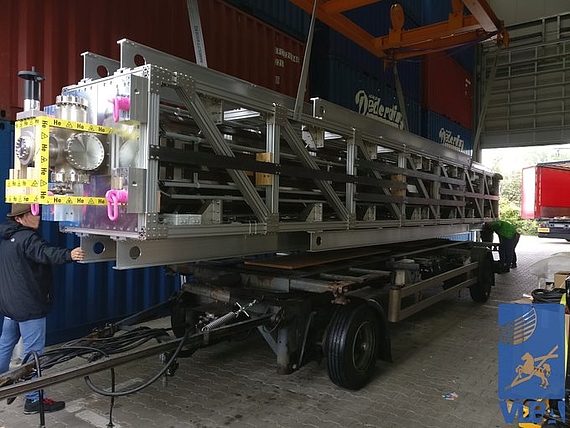 Very Long Baseline Atom Interferometry (VLBAI) represents a new class of experiments in atom optics with applications in high-accuracy absolute gravimetry, gravity-gradiometry and tests of fundamental physics. Extending the baseline of gravimeters from tens of centimeters to several meters opens the way for competition with state of the art superconducting gravimeters and quantum tests of the universality of free fall (UFF) at an unprecedented level, comparable to those achieved by classical lunar laser ranging and torsion balance tests. Also, the implementation of a gravity gradiometer in the vertical direction will complement the research effort done by the MIGA collaboration towards 3D gravity antennas and mapping of space-time strain in the low-frequency range. Furthermore, non-classical states will be investigated on long baselines and by means of large-momentum beam splitting techniques, VLBAI will allow us to create superposition states with separations of meters and seconds in space and time to investigate their collapse into macroscopicity and the interplay between quantum mechanics and general relativity.

The VLBAI-Teststand will consist of a 10m-baseline atom interferometer implemented in the Hannover Institut für Technologie (HITec) of Leibniz Universität Hannover. For UFF tests, it will be operated as a dual-species, simultaneous gravimeter using ultracold mixtures of ytterbium and rubidium atoms. The choice of ytterbium is motivated by its high mass and the very small sensitivity of the ground states of the bosonic isotopes to magnetic fields, enabling better control of the systematics and constraining violation parameters. Also, the presence of a narrow clock transition gives the opportunity to investigate novel beam splitting techniques, e.g. for gravitational wave detection.
In summary, owing to the employed atomic species choice and innovative source concepts as well as the seismic attenuation system and planned atom interferometer geometries, the VLBAI facility is an excellent and worldwide unique tool that will soon open completely new perspectives for geodesy and fundamental research.
RESULTS
In parallel to commissioning of the 10m infrastructure at HITec, including completion of the high-performance magnetic shield surrounding an ultra-high vacuum tube, the seismic isolation system, and the support structure mounting the device, both high-flux atom sources fully compatible with the large facility for rubidium and ytterbium are in operation. To that end, with three-dimensional magneto-optical trapping demonstrated for rubidium and Zeeman-slowed ytterbium in their respective science chambers we will commence evaporative cooling in an optical dipole trap shortly.
Moreover, the laser systems necessary for manipulation of ytterbium on the clock transition and at the magic wavelength have been prepared and are ready for experimental testing of newly developed clock interferometry schemes developed within this project in collaboration with the group of Wolfgang Schleich (University Ulm).
FUTURE
For the near future we expect first demonstration experiments towards ytterbium quantum clock interferometry as well as first observations of rubidium matter waves and atom optics experiments on the 10m baseline in HITec. These steps will inevitably grant us access to the desired unprecedented control over largely delocalized states in space and time and may pave the way towards novel redshift tests using matter wave interferometers.
PUBLICATIONS
(2019):

Proper time in atom interferometers: Diffractive versus specular mirrors

,

Phys. Rev. A 99, 013627

DOI:

10.1103/PhysRevA.99.013627

(2019):

Interference of clocks: A quantum twin paradox

,

American Association for the Advancement of Science

DOI:

10.1126/sciadv.aax8966
PROJECT LEADER
Prof. Dr. Ernst Maria Rasel
Address
Welfengarten 1
30167 Hannover