INTRODUCTION
Although initially demonstrated more than forty years ago in a Penning trap, laser cooling has seen relatively little use in Penning trap precision experiments. A potential reason is that the Penning trap already offers an intrinsic cooling mechanism which can cool a particle to the temperature of the cryogenic environment. Moreover, many species of interest for precision experiments in Penning traps are not suitable for direct laser cooling. An extreme cases which would strongly benefit from lower achievable temperatures is a single (anti-)proton. We aim to implement sympathetic laser cooling of single (anti-)protons through laser-cooled atomic ions within the BASE collaboration to support tests of the fundamental CPT symmetry.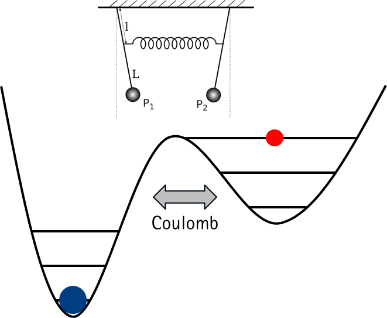 Building on ideas by Heinzen and Wineland, combined with earlier demonstration experiments in radio-frequency traps, we intend to implement sympathetic cooling in a double-well potential, where a 9Be+ ion contained in one potential well will sympathetically cool a single (anti-)proton confined in a neighboring potential well remotely through the direct Coulomb interaction. Through the ability to ground-state cool single atomic ions, this would ultimately make even ground state cooling of subatomic particles possible for the benefit of precision measurements. The same principles can also be employed for quantum logic spectroscopy of spin precession and motional frequencies of single (anti-)protons.
RESULTS
Based on the BASE CERN experiment, we have built a new Penning trap setup compatible with the BASE CERN geometry, but enhanced for laser access and resonance fluorescence detection. We have recently trapped clouds and single 9Be+ ions and detected them through resonance fluorescence. We have observed Doppler cooling of single 9Be+ ions and implemented axialisation for laser cooling of all modes of motion, including the metastable magnetron motion. We have developed compact fully fiber coupled rack-mount compatible laser systems for use under the tight spatial constraints of the BASE zone at the CERN antiproton decelerator (AD) facility.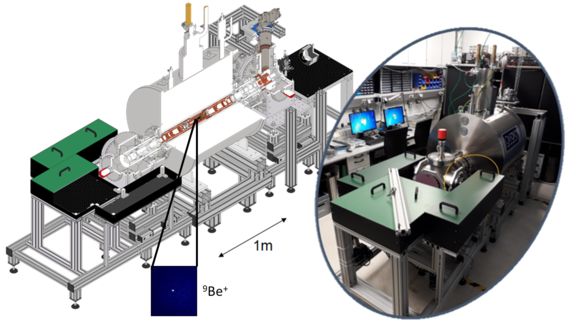 Together with project A01, we have adopted a femtosecond frequency comb approach developed in the context of quantum logic with Yb+ ions for stimulated-Raman control of 9Be+ ions9 in order to bridge the 140 GHz spin splitting in 9Be+ at 5 Tesla for ground state cooling. Together with Marius Schulte, Klemens Hammerer, Diana Nitzsche (project A05) and Mercator fellow Ralf Lehnert, we have developed concepts for implementing quantum logic spectroscopy to single (anti-)protons in Penning traps.
We have taken first steps to implement micro-fabricated Penning traps in order to enhance the coupling between single (anti-)protons and 9Be+ ions when they are brought close together, which strongly benefits from the small trap dimensions. Here, we have implemented three-dimensional structured metal deposition on substrates structured with deep reactive ion etching.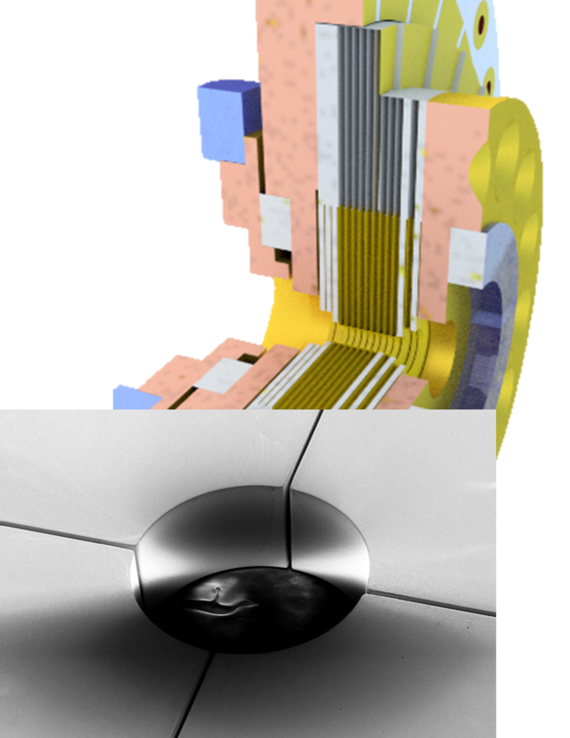 FUTURE
Our next step will be to implement "remote" sympathetic cooling between 9Be+ ions in a double-well potential, the Penning trap equivalent of. This will be a precursor experiment for sympathetic cooling of protons by 9Be+ ions. Towards this end, we have developed an off-axis proton source compatible with antiproton injection at the AD, which we are commissioning right now. When our microfabricated coupling trap has been fully developed, that should allow us to implement sympathetic cooling and quantum logic spectroscopy of single (anti-)protons. This would make sub-atomic particles amenable to manipulation of all degrees of freedom at the single quantum level for the benefit of precision measurements. The same ideas could also be applied to Penning trap mass measurements, where laser cooling has seen very little use so far, as a way of implementing a generic laser cooling scheme that works for all ions of interest within a certain charge-to-mass ratio range.
The project thus builds on quantum control schemes developed in the context of quantum logic and simulations within the DQ-mat to achieve a new level of control over sub-atomic particles for precision measurements and, through tests of the fundamental CPT symmetry carried out within the BASE collaboration, is closely related to local Lorentz invariance tests (project B03) and tests of the possible time variation of fundamental constants (B02-B05) carried out within DQ-mat.
PROJECT LEADER
Prof. Dr. Christian Ospelkaus
Address
Welfengarten 1
30167 Hannover
Address
Welfengarten 1
30167 Hannover
Dr. Juan Manuel Cornejo-Garcia
Address
Welfengarten 1
30167 Hannover
Dr. Juan Manuel Cornejo-Garcia
Address
Welfengarten 1
30167 Hannover