INTRODUCTION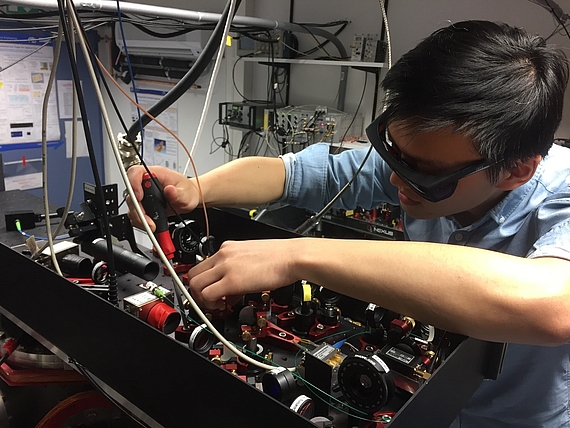 Optical clocks with single ions are among the most accurate existing devices with demonstrated systematic frequency uncertainties in the low 10-18 regime. The ion traps used in these kinds of experiments provide a strong confinement, allowing for long interrogation times of the clock ion whilst shielding it from external perturbations. However, single-ion optical clocks face a fundamental limit: the single quantum absorber features only a small signal-to-noise ratio which directly enters the clock's statistical uncertainty.
In this project, we aim to overcome this limitation by using multi-ion and multi-species ensembles for optical clock spectroscopy. We are developing a platform suitable for stable trapping of the ions while keeping the excellent control over the environment as demonstrated for the single-ion experiments. We are implementing continuous dynamical decoupling as a novel technique to suppress inhomogeneous effects of field gradients and ion-ion interactions in large ion crystals and pioneer more advanced cooling techniques for complex multi-species ion crystals. This is complemented by investigating systems of entangled ions as a resource for reducing the statistical uncertainty of optical frequency standards.
RESULTS
Within the project B03, we developed a precision ion trap which is capable of simultaneously trapping multi-ion ensembles. It consists of four stacked wafers made of AlN, a ceramic material with a high thermal conductivity, enabling 3D optical access for laser cooling and manipulation of the ions. The trap has been designed for high intrinsic symmetry, which – together with precise laser structuring – enables the storage of symmetric Coulomb crystals.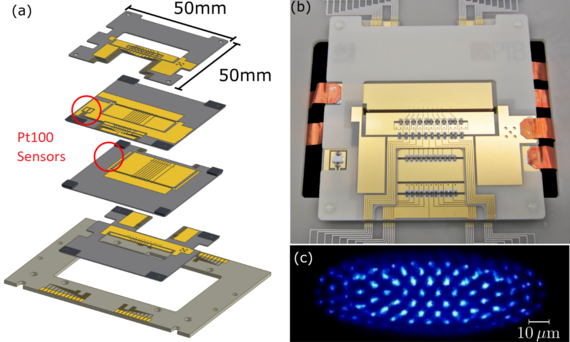 As a first milestone towards the extension of single-ion spectroscopy to multi-ion ensembles, we performed a simultaneous measurement of spatially resolved axial excess micromotion (EMM) along a chain of 14 Yb+ ions and showed its equality to the measurement of a single translated ion. Demonstrating a time dilation shift due to EMM on the order of 10-18, we verified the ion trap design goal of low axial micromotion.
Very recently, we observed for the first time the highly-forbidden octupole transition in 172Yb+ with resolution on the 100 Hz level (in collaboration with project B09). This breakthrough will facilitate the test of local Lorentz invariance using the relativistic F manifold in 172Yb+.
When employing large ion crystals as frequency standards, one must be careful not to sacrifice the superb accuracy that is the great strength of single ion realizations. For some atomic species, for instance, large ion crystals can suffer from effects of field gradients and ion-ion interactions causing a broadening of the originally narrow clock transition, detrimental for clock operation. We devised a technique suppressing this effect by creating a robust effective clock transition via dressing of several suitable atomic states with different dependence on the relevant effects (i.e. electric field-induced quadrupole and tensor ac Stark shifts and Zeeman shifts). In collaboration with colleagues from theory we showed that such inhomogeneous effects in an ion crystal of 400 Ca ions can be effectively suppressed.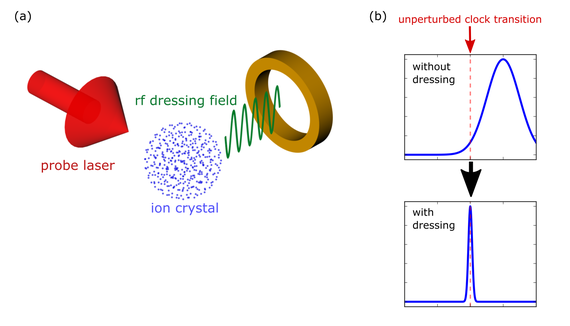 As a first step to realize the envisioned approach in the laboratory, we implemented our scheme with a single Ca ion and observed a significant suppression of inhomogeneous line broadening. The experimental implementation based on the trapping platform as described above facilitates trapping of large crystals of Ca ions, thus paving the way of taking full advantage of the scheme in the near future.
Another challenge of (multi-species) ion crystals are efficient cooling techniques providing control over the more complex mode structure of ion crystals. We devised and demonstrated double-bright EIT cooling as an advanced cooling technique for Al+-Ca+ crystals, as used for our Al quantum logic clock.
FUTURE
In the future, we will implement and characterize the UV optics setup enabling direct detection of In+ and perform the first spectroscopy of the In+ clock transition in our setup. We will implement deterministic loading and sorting of mixed Yb+/In+ crystals and investigate optimal configurations for longer chains with respect to cooling times and systematic uncertainties. The Yb+ ions will serve as a probe to map out the magnetic field gradients for In+.
The 4f electron orbital in Yb+ features a high kinetic energy, which makes this atom very sensitive to relativistic effects. Within this project, we aim for a precise test of the local Lorentz invariance (LLI), which -in principle- is a quantum analogue to the classical Michelson-Morley experiment: Here, we study the interference of designed quantum states and search for variations of their kinetic energy on the scale of a sidereal day.
Furthermore, we will implement a robust scheme of composite pulses (an approach similar to the robust optical transition described above) to test a possible violation of local Lorentz invariance in the F manifold of Yb+ at state-of-the-art sensitivity. As a next step, we will investigate deterministic entanglement of multiple ions for a test of LLI with improved sensitivity (together with project A06).
We will extend the continuous dynamical decoupling techniques to large Ca ion crystals and demonstrate improved stability, paving the way to robust optical transitions in multi-ion crystals. In the future, such a crystal could be used as a prestabilization stage in a cascaded clock scheme when interrogating an Al+-Ca+ crystal in another trap segment, thereby combining high stability offered by the large Ca+ crystal with the high accuracy facilitated by the Al+-Ca+ crystal.
Finally, we are currently setting up an experiment to create entanglement between two Ca+ ions with the goal of investigating the benefit of entanglement for spectroscopy. For this we will use Mølmer-Sørensen gates as demonstrated in the group of C. Ospelkaus (see project A01).
PROJECT LEADER
PD Dr. Tanja Mehlstäubler
Prof. Dr. Piet Oliver Schmidt
Address
Welfengarten 1
30167 Hannover