INTRODUCTION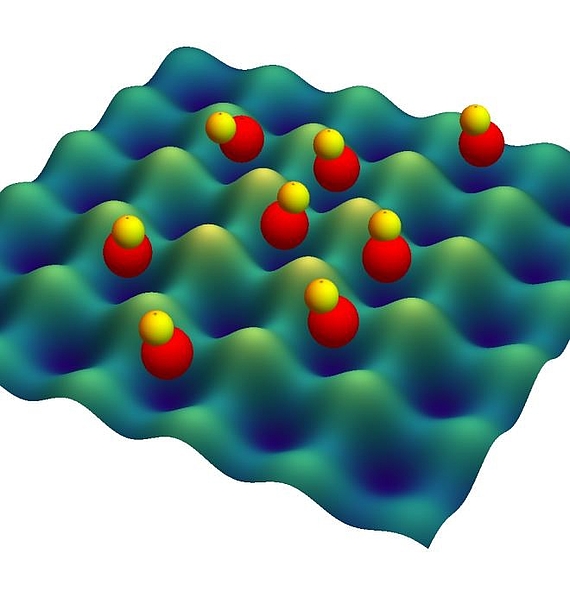 Ultracold quantum gases of polar molecules in optical lattices are exceptional candidates for the engineering of novel non-classical states of matter due to the molecules' large electric dipole moment. Such novel non-classical states are of great interest for applications ranging from quantum simulation and computation to quantum metrology.
The first step toward the engineering of molecular states is the creation of ground state molecules, not an easy task when the chosen alkali combination has never studied before. After this first step, the assembling of molecules will take place in optical lattices where the we will investigate different methods to detect them via direct and indirect ways, including novel methods based on cavity assisted imaging. Effective implementation and read-out of these complex states of matter require site sensitive addressing and detection of molecules ideally on single sites of the lattice.
To reach our goals we take advantage from strong collaborations within DQMAT with A4 and A5, both to what it concern novel detection schemes and innovative protocols to assembly molecular state.
RESULTS
The assembling of molecular gases is based on a detailed knowledge of the interatomic potential both to understand the collisions between atoms and to locate the intermediate state, that serves as pathway for the adiabatic transfer. The bosonic alkali combination 23Na +39K was never experimentally investigated before and its collisional properties were only inferred from theoretical predictions based on other isotope combinations. After having engineering an efficient cooling scheme based on forced evaporation and sympathetic cooling in a magnetic quadrupole trap, we are able to cool down the mixture down to some tens of microkelvin. When the mixture reaches this temperature, collisions between sodium and potassium are too strong and we have to tune them by involving a magnetic Feshbach resonance. First we load the atoms into a crossed dipole trap and we apply a bias field with magnitude up to 900G. By the mean of this optically trapped cooled sample, we observed several loss features which we could associate to maximum and minimum of the scattering length in different atomic spin mixture. Thanks to collaboration with Prof E. Tiemann, the interatomic potential has been refined to fit our measurements and additionally it results more accurate to locate predict observed in fermionic mixture.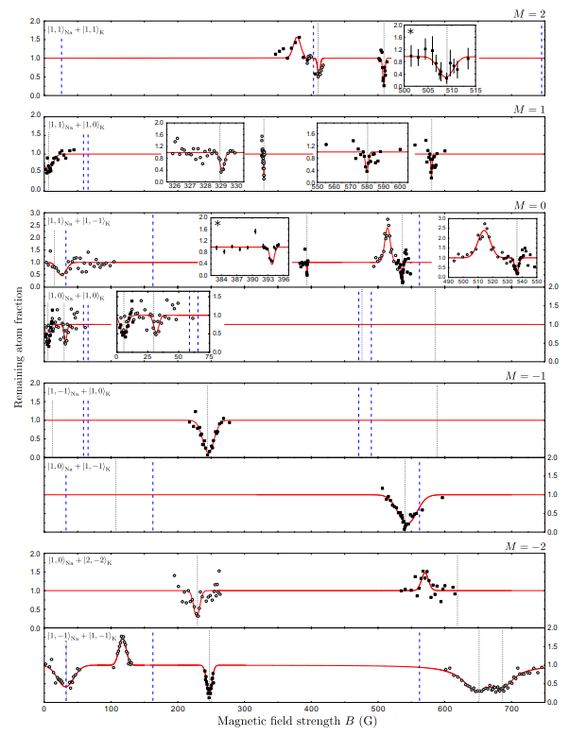 The acquired precise knowledge of the scattering length allowed to perform even more efficient evaporation and we could create the first doubly degenerate mixture of sodium and potassium.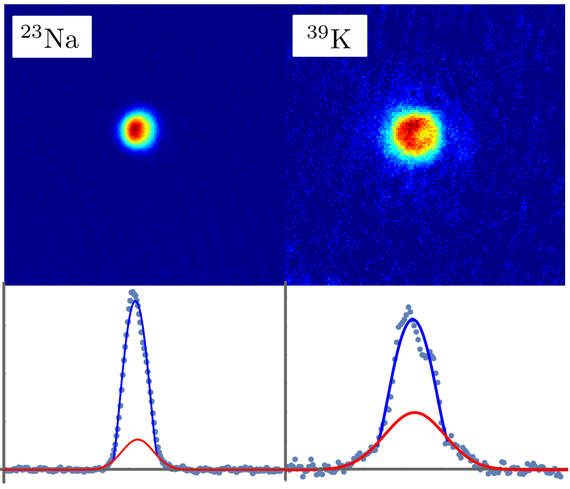 Next we transfer the atoms into a Feshbach shallow-bound molecular state and started to studied the subsequent transfer to the ground state via stimulated adiabatic Raman passage (STIRAP).
Following the theoretical predictions done in our group and by using two lasers locked to an ultrastable cavity, we first perform intense spectroscopic studies of the molecular potential. We recently find a very promising intermediate state and the observation of ground state molecules is just few step ahead.
FUTURE
The next steps include the direct observation of the so formed ground state molecules and the investigation of their collisional properties in bulk. We plan to move our effort to the creation of molecules in an optical lattice and start detecting and engineering non-classical quantum many-body states of polar molecules, thanks also to our advance electric field plate system and single site detection optics.
PUBLICATIONS
(2019):

The mixing-demixing phase diagram of ultracold heteronuclear mixtures in a ring trimer

,

Scientific Reports 9, 6908

DOI:

/10.1038/s41598-019-43365-6

(2019):

Feshbach resonances in 23Na + 39K mixtures and refined molecular potentials for the NaK molecule

,

Phys. Rev. A 99, 032711

DOI:

10.1103/PhysRevA.99.032711
PROJECT LEADER
Address
Welfengarten 1
30167 Hannover
Prof. Dr. Silke Ospelkaus
Address
Welfengarten 1
30167 Hannover
Address
Welfengarten 1
30167 Hannover