INTRODUCTION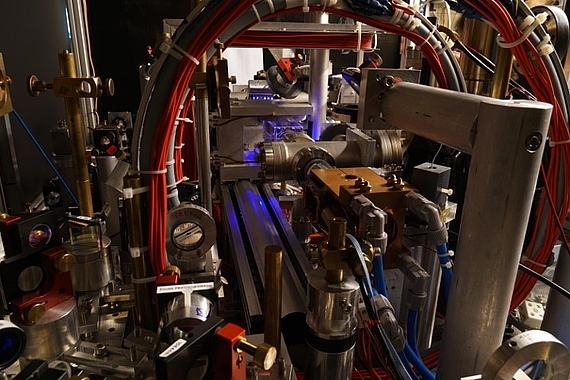 At ultracold temperatures, neutral atoms can form a Bose-Einstein condensate (BEC). Such condensates can be manipulated with high accuracy and are used as the core of high-precision sensors and for the investigation of fundamental physical effects. In a dipole trap generated by a red detuned laser, atoms with any spin orientation can be trapped. Thus, the condensates gain a further degree of freedom and are referred to as Spinor condensates.
In project A02, spin-changing collisions in such a Spinor condensate are used to generate entanglement between the atoms. Different entangled states can be prepared. In the case of spin squeezed states, entanglement reduces quantum noise: The variance of a measured spin distribution can be below the classical shot noise. However, highly entangled states show non-Gaussian distributions and are generally more difficult to characterize. We investigate the generation and application of these complex atomic states.
RESULTS
In our experiment we created entanglement between two spatially separated clouds. We prepared a twin-Fock state in the first excited mode of the dipole trap. This mode divides naturally into two spatially separated clouds. We have developed a criterion to describe the entanglement between the two clouds and to prove it experimentally. Since the clouds could be addressed individually, our experiments open a way to use the available highly entangled states of indistinguishable particles for quantum information applications.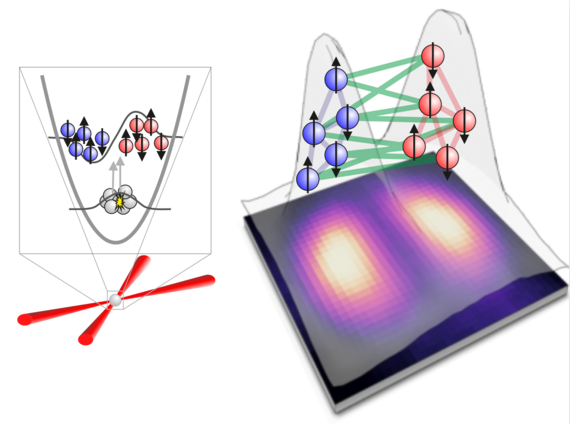 If the boundary conditions of the quantum vacuum change over time, quantum field theory predicts that real, observable particles can occupy the initially empty modes. This process is called the dynamic Casimir effect. In our experiment we were able to realize this effect by periodically changing the boundary conditions of our Spinor BEC, that is the external homogeneous magnetic field. We could observe that initially unoccupied space and spin modes were occupied by entangled pairs of atoms.
In addition, we were able to demonstrate the application of spin-squeezed states in an atomic clock, develop criteria for the characterization of multi-particle entanglement in our states, and showed that spin-changing collisions are also capable of reducing the influence of technical noise in the detection of the atoms.
FUTURE
We plan to use the current setup for the development of quantum logic techniques for state preparation of molecular ions that will be implemented using MgH+-ions. For that purpose, we will set up a high power, far detuned Raman laser to couple the molecule's internal state to the shared motional degree of freedom. Simultaneous cooling of the motion via the logic ion provides a dissipation channel to eventually cool the molecules internal states.
In parallel we are working on a new experimental setup, where we plan to implement high precision quantum logic spectroscopy of molecular oxygen ions on a vibrational transition to infer a limit on a possible temporal variation of the proton-to-electron mass ratio.
PROJECT LEADER
apl. Prof. Dr. Carsten Klempt
Address
Welfengarten 1
30167 Hannover
Address
Appelstraße 2
30167 Hannover
Prof. Dr. Wolfgang Ertmer
Address
Welfengarten 1
30167 Hannover