INTRODUCTION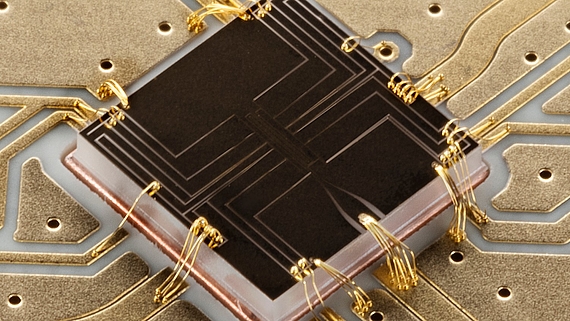 Trapped ions are exceptionally well-controlled quantum systems and a leading platform for the implementation of a future quantum computer. Here we aim to take advantage of the control and technology that has been developed in small-scale demonstration experiments in order to emulate the behavior of interesting quantum many-body systems. Quantum behavior may be responsible for intriguing phenomena in condensed matter systems, such as high-temperature superconductivity.
We consider systems of interacting spins, where the spin degrees of freedom are encoded in an individual ion's internal energy levels. These individual spins are allowed to interact by coupling each ion's spin degree of freedom to the joint motion of all atoms. For generating these interactions, we pursue a scalable approach where the required spin-motional couplings are generated by microwave conductors embedded into the trap structure, rather than bulky external laser systems. By arranging the atoms in suitable lattice structures realized in surface-electrode ion traps, a wide range of interactions can be realized.
RESULTS
We have developed a numerical simulation toolchain to be able to predict the microwave near-fields emanating from conductors embedded in our surface-electrode traps, implemented a method to characterize them using a single ion as a local field probe, developed a model to describe these near-fields and obtained excellent agreement between model and simulations. These near-fields are used to induce the spin-motional couplings between the ions.
In our room temperature setup at PTB, we have cooled single ions and multi-ion registers to the radial ground state of motion using both optical fields and near-field microwaves. Just recently, we have implemented an entangling two-qubit gate with a fidelity in excess of 98%. Figure 2 illustrates the characterization of this process. The red and blue curves indicate the population for both ions in the "00" state (red), both ions in the "11" state (blue), and the mixed states "10" and "01". The plot shows populations as a function of a global basis-changing pi/2 pulse which we apply after the gate operation. Around -20°, the state is a coherent superposition of "00" and "11" (entangled state), and the mixed population is minimized. Around 70°, the state is a coherent superposition of "01" and "10", and the population of "00" and "11" is minimized. In the language of quantum simulations, this corresponds to the implementation of a system of two interacting spins. Also for quantum computation, this results holds great promise, as the current gate fidelity is not limited by any process inherent to the microwave approach, but rather by technical issues that have already been addressed in other setups.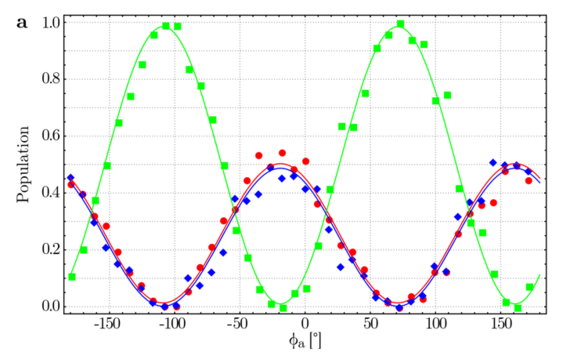 The implementation of our agenda critically depends on the production of surface-electrode traps according to our simulations. We have developed a multi-layer surface-electrode ion trap fabrication process in the PTB clean room facility. This allows us to bring in control signals in lower layers of the structure and only bring them to the surface where needed for controlling the ion(s). This technology is indispensable for larger scale devices. A patent on the process is pending. We have demonstrated a 1 week turnaround from a finalized design to a fabricated trap for single-layer traps and less than a month for multi-layer traps.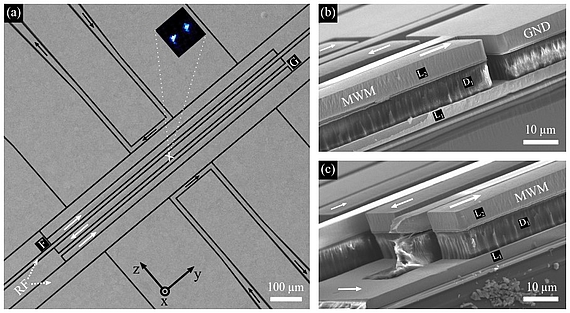 FUTURE
We are currently seeking to further boost the fidelity of the entangling two-qubit gate by improving the radial mode stability (our current main source of infidelity) and by suitable modulation schemes. This is an ongoing collaboration with Klemens Hammerer and Marius Schulte in project A05, which has already been instrumental in realizing and characterizing our first two-qubit gate.
Together with Hendrik Weimer and project A06; we are currently exploring the implementation of an effective spin-spin model with dissipation. Future work will focus on implementing spin-spin couplings between ions in spatially separate potential wells in order to demonstrate the scalability of the approach.
Together with project B03, we are currently exploring the application of our multilayer trap technology to realize three-dimensional traps for frequency metrology in multi-ion clocks. We also aim to make this technology available to a wider community outside DQ-mat as a "foundry service".
PUBLICATIONS
(2019):

Multilayer ion trap with three-dimensional microwave circuitry for scalable quantum logic applications

,

Appl. Phys. B 125, 154

DOI:

10.1007/s00340-019-7265-1

(2019):

Integrated 9Be+ multi-qubit gate device for the ion-trap quantum computer

,

npj Quantum Information 5, 70

DOI:

/10.1038/s41534-019-0184-5

(2019):

A cryogenic radio-frequency ion trap for quantum logic spectroscopy of highly charged ions

,

Rev. Sci. Instrum. 90 , 073201

DOI:

/10.1063/1.5100594
PROJECT LEADER
Prof. Dr. Christian Ospelkaus
Address
Welfengarten 1
30167 Hannover
Address
Welfengarten 1
30167 Hannover
STAFF
Dr. Amado Bautista-Salvador
Dr. Amado Bautista-Salvador